| | | |
| --- | --- | --- |
| Reference Number: AA-00217 Views: 11909 Created: 2012-07-13 15:31 Last Updated: 2012-11-08 12:48 | | |
The camera mount serves as a stable and immobile platform to hold and protect the camera.
---
As with all aspects of the photo station, there are many ways to mount the camera. Common ways include a post mounted to the floor, or a wall mount of the camera. In all cases the goal is to provide a mounting platform that is physically stable to prevent movement or even vibration of the camera while a picture is being taken. A second criteria is to provide protection for the camera from the environment.
Important points:
Stability - It is very important that the camera is mounted to prevent any movement or vibration while taking a picture. Even a slight vibration while taking pictures can affect the quality and functionality of the digital slab creation process. For this reason it is generally recommended that the camera mount is not a part of any other piece of hardware (ie- the desk that holds the computer).
Protection - The camera is a relatively robust piece of electronic equipment, but it is still recommended that the camera be placed inside a box with a glass or plexiglass window on the front to shoot through. The camera will withstand fairly extreme temperatures, but keeping stone dust and water off of it will greatly prolong the life of the camera.

When creating a box to cover the camera, it will make setup easier if it can be removed easily. In most cases the best cover is one that simply lifts off the top. This provides easy access to the camera controls and viewfinder during initial setup. Once the camera has been positioned correctly and focused, the top can be placed back over the camera.

Regarding this ability for easy setup, it should be noted that the camera should be mounted far enough away from any fixed objects to allow you to stand on a ladder and place your head at the viewfinder. For instance, if the camera is mounted to a wall, you should create a mounting bracket that will keep the camera at least 12 inches from the wall to aid in setup.
Drawings of typical camera mounts

---
Floor Mounted Assembly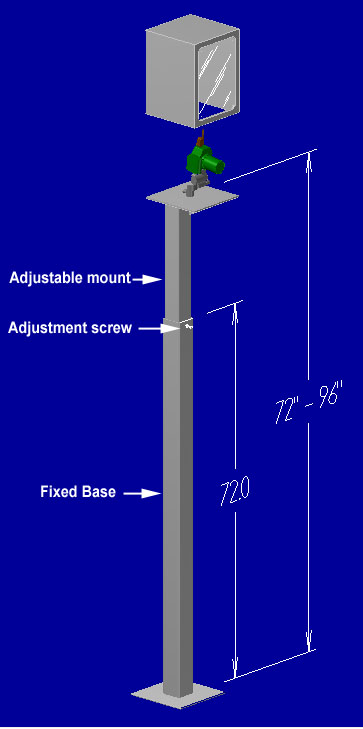 | Wall Mounted Assembly | Bracket Detail |
| --- | --- |
| | |
Camera Mount Assembly detail